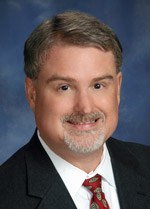 Mr. Bradley William Yarger, P.E. opened Yarger Engineering in June 1994. He is a devout Christian and built the business around 1 Corinthians 10:31, "... whatever you do, do it all for the glory of God." Some of the primary reasons for opening Yarger Engineering were Mr. Yarger's belief in doing business in an honest, straightforward way and providing a quality product to the client. These values are the cornerstone of the business.
Every generation of Mr. Yarger's family had at least one person in business for themselves; his father and paternal grandparents ran a farm supply store. His maternal grandparents and their relatives owned a chain of hardware stores, at which a very young Mr. Yarger worked. Other relatives had farms or other retail stores. Mr. Yarger as a teenager worked in a bicycle shop that had just started a few weeks before he was hired and he continued to work there through college.
Mr. Yarger had contemplated the idea for several years while working for INDOT and other consultants, but did not start Yarger Engineering until a potential client asked him to do so. Mr. Yarger immediately formed the company and fulfilled the commitment to the client.
In July 1995, a former client who specifically wanted Mr. Yarger to work on a project contacted Mr. Yarger about a traffic engineering project for Wal-Mart Stores, Inc. This led to several traffic impact studies and traffic signal designs throughout Indiana.
In April 1998, Yarger Engineering incorporated and became Yarger Engineering, Inc. for tax and general liability reasons. Yarger Engineering, Inc. hired staff and worked indirectly for INDOT counting traffic as a subconsultant to Dames and Moore, Inc.
Since its promising start, Yarger Engineering's diverse client list has grown to include state and local government, corporations, developers, real estate attorneys, neighborhood associations and private individuals. Yarger Engineering, Inc. provides traffic engineering and roadway design services as well as remonstration services throughout Indiana.
Yarger Engineering, Inc. has regularly hired civil engineering students for summers providing them their first chance to work in an engineering office while in college. Mr. Yarger believes that it is important to give back to the profession and this is a good way to do so. Many of these students have gone on to become fine traffic engineers.
Yarger Engineering hires professional assistance for their surveying, legal, accounting, and computer programming needs. When necessary, they also subcontract on projects requiring a greater variety of engineering skills. Because Yarger Engineering Inc. values business ethics, the company will not work in areas where the staff is not competent. Instead, Yarger Engineering, Inc. believes in finding a competent partner for the needed services. Yarger Engineering, Inc. has from its very conception, specialized in traffic engineering and road design, and will continue to do.


Call us at 317-475-1100 or email us today!