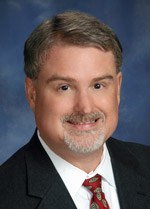 Bradley William Yarger (Brad), President and owner of Yarger Engineering, is a registered professional engineer (P.E.) in Indiana and Kentucky. A graduate of Purdue University, he holds a B.S. degree in civil engineering with a major in transportation. Mr. Yarger's experience includes three years with the Indiana Department of Highways and over 30 years in private practice.

Since 1994 Mr. Yarger has directed all of engineering, developed studies and design plans, and overseen construction on the owner's behalf. He has developed construction bid documents, estimated construction costs, managed bidding processes, and negotiated engineering contracts for roadway improvement projects. He has design, timed, and overseen construction of numerous traffic signals. He has worked with architects, engineers, landscape architects, surveyors, property owners and developers, utilities and various governmental agencies, including INDOT, KYTC, FHWA, DNR, planning commission, zoning boards, technical advisory committees, city councils, and county commissioners.

He also runs the business dealing employees, clients and vendors, sales, marketing, office management, human relations, insurance, accounting, and attorneys. Prior to starting his own engineering business, Mr. Yarger worked for other engineering firms and INDOT as a transportation engineer. He is proficient in Microsoft Office, Highway Capacity Software, Synchro, SimTraffic, and AutoCAD Civil 3D. He has developed software for designing street signs. He also has performed research on traffic signal systems, presented in front of large groups, and been published.
Mr. Yarger is an active member of Second Presbyterian Church in Indianapolis, where he serves as a deacon and head usher.